How to Choose a Plan for Your Business
Last modified:
---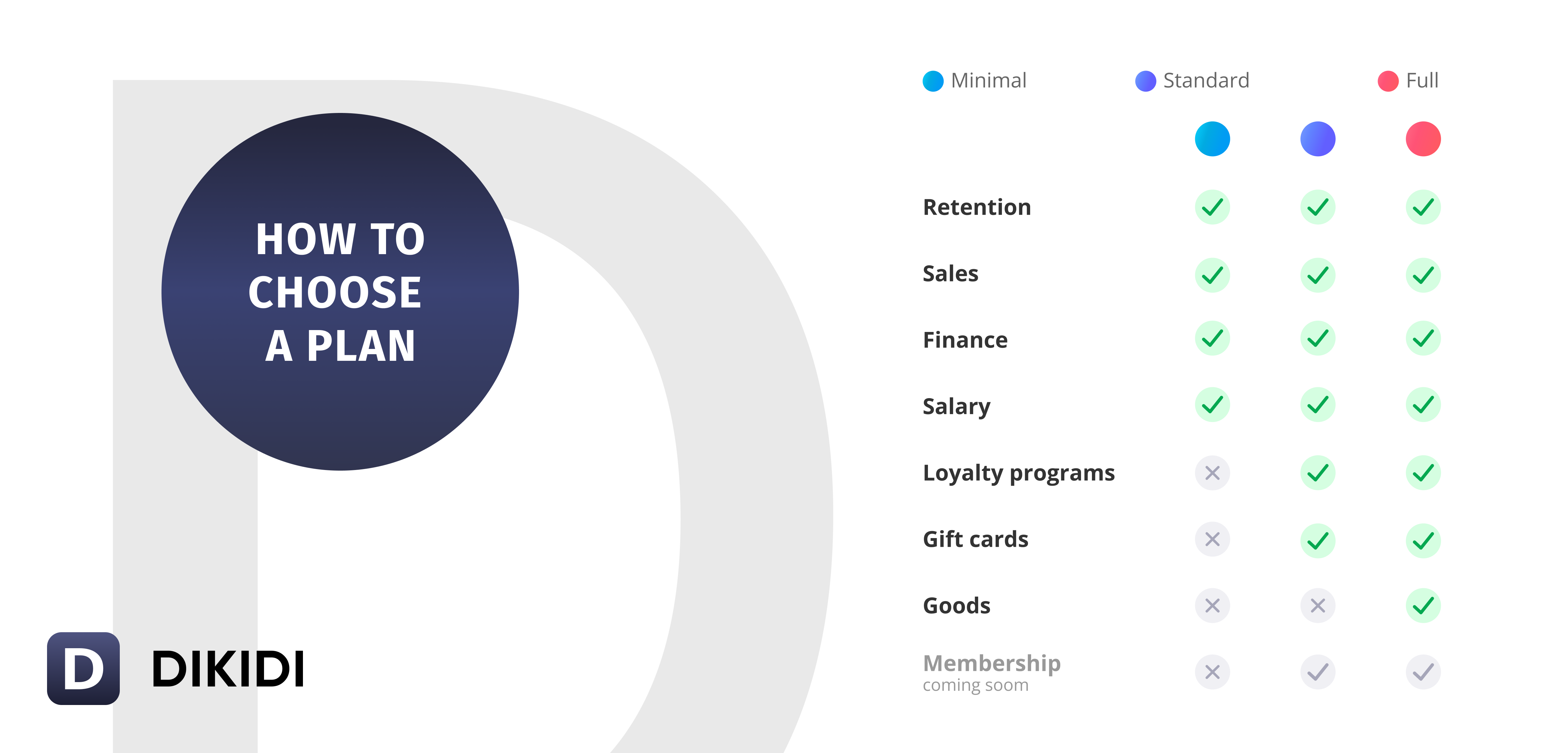 Each user after creating an account gets the Basic plan for free without restrictions. This plan is enough to schedule appointments, manage a customer base, enable online booking and send customer notifications.

The Basic plan features include:

Appointment journal;

Customer database;

Push notifications to customers (about other notification channels);

Online booking (using a direct link,  a widget on social media or your web site, booking on maps and the DIKIDI Online catalog) ;

Prepayment;

Chat with customers and employees;

Considering unavailable resources for work;

Customer statistics;

Unlimited number of employees and different access rights settings;

Free app for employees - DIKIDI Appointments;

Free app for customers - DIKIDI Online.
These features are available if any paid plan is enabled - without time or staff llimits.

---
3 paid plans:
THE MINIMAL PLAN
The plan is suitable for you if you want to work with customer retention and finances (income, sales, salary).

1) Retention
Retention shows how many customers booked your services again compared to any previous period.
You can also create lists of lost customers and work with them - unlike the regular list, there are customers who visited recently so they can be most easily attracted back.
Compare retention rates by employee, service, time period and use this analytics in your work.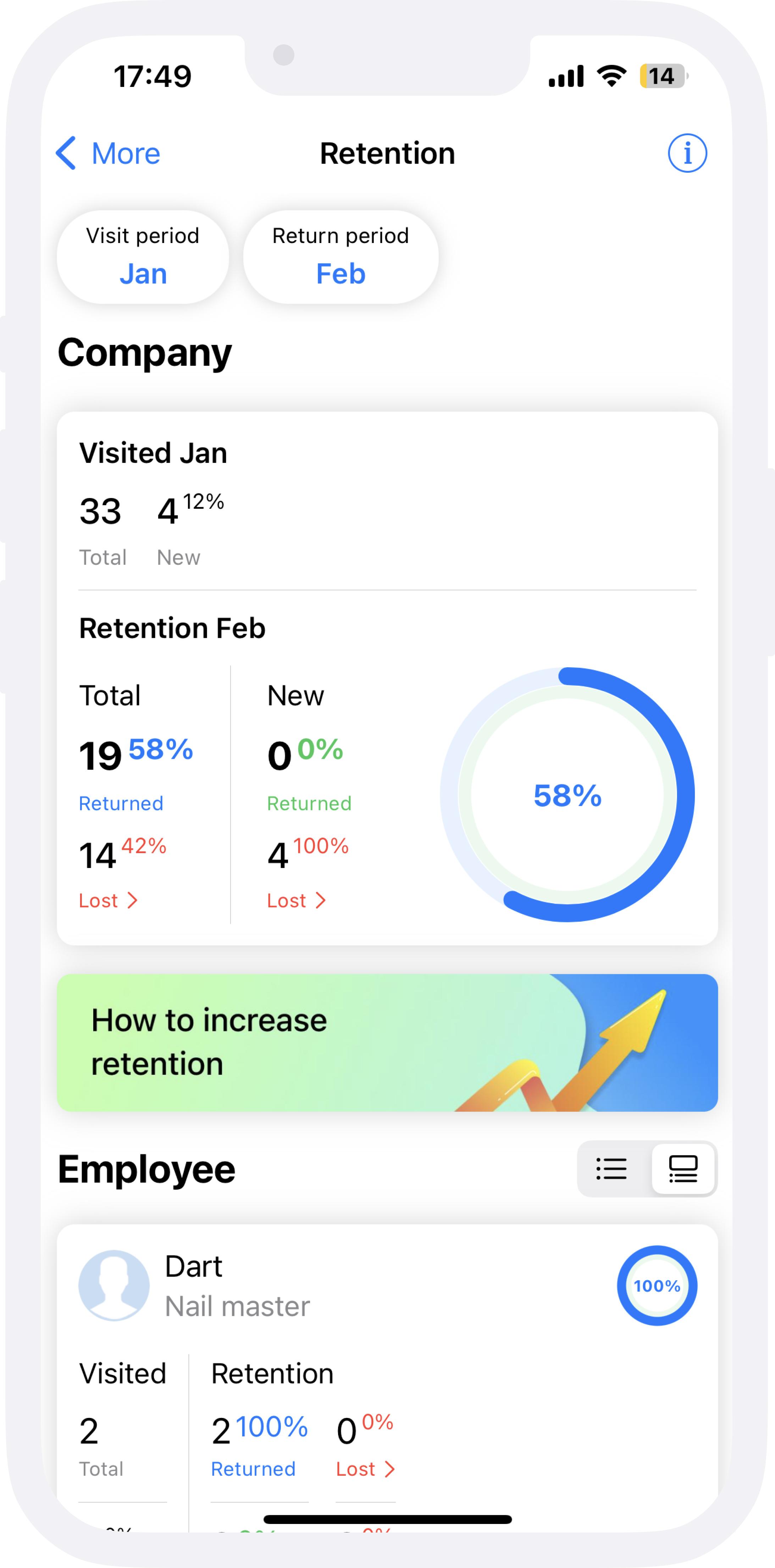 2) Sales
Take into account all completed Sales and analyze them using different filters: by employees, services and your company.
The sales report contains information on the amount of sold services and goods, as well as on the average check and percentage in total revenue.
There are comparison features with any previous period, and the employee report allows you to visually compare the effectiveness of their work.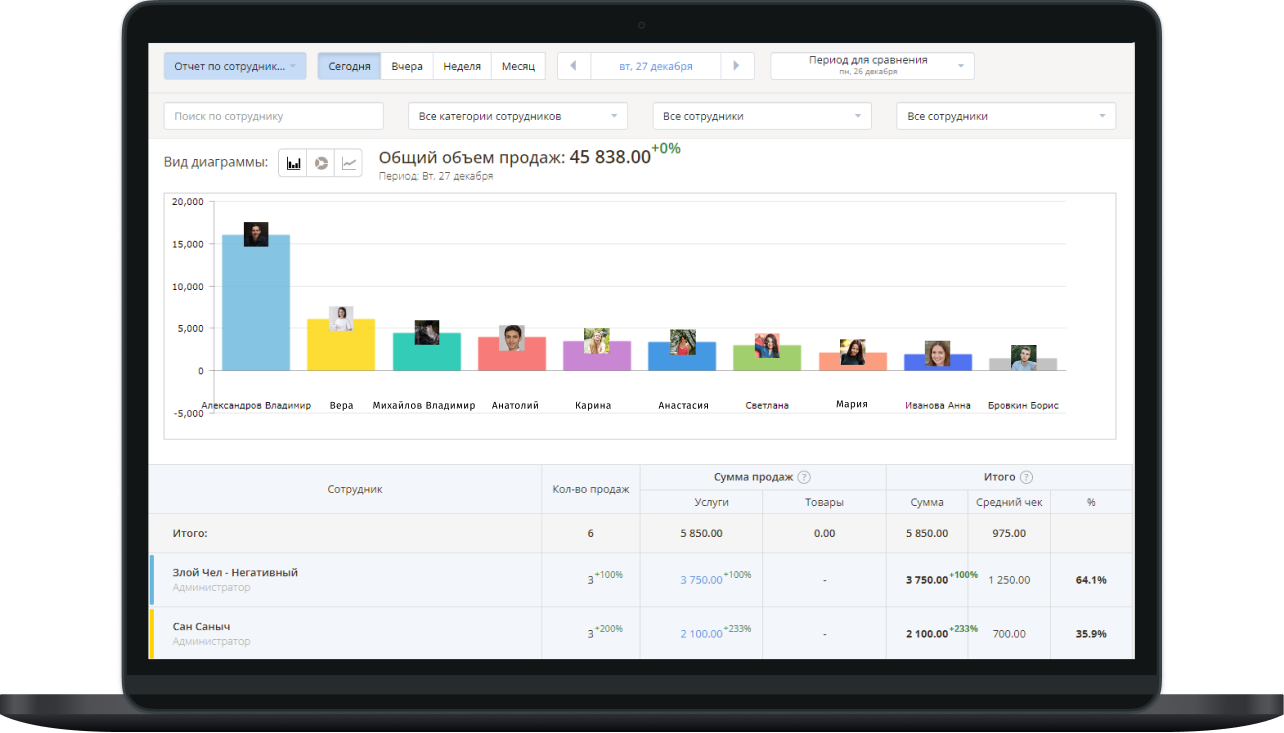 3) Finance
Finance is a module where you can record and analyze income and expenses, add accounts and cash registers, set up Internet acquiring, and keep records of mutual settlements with suppliers.
The data that goes through cash registers is entered into the program automatically, you can also manually correct the transaction, add a new one or delete an unnecessary one.
Set up income sources and cash flow items for your business, add comments and export reports for further work.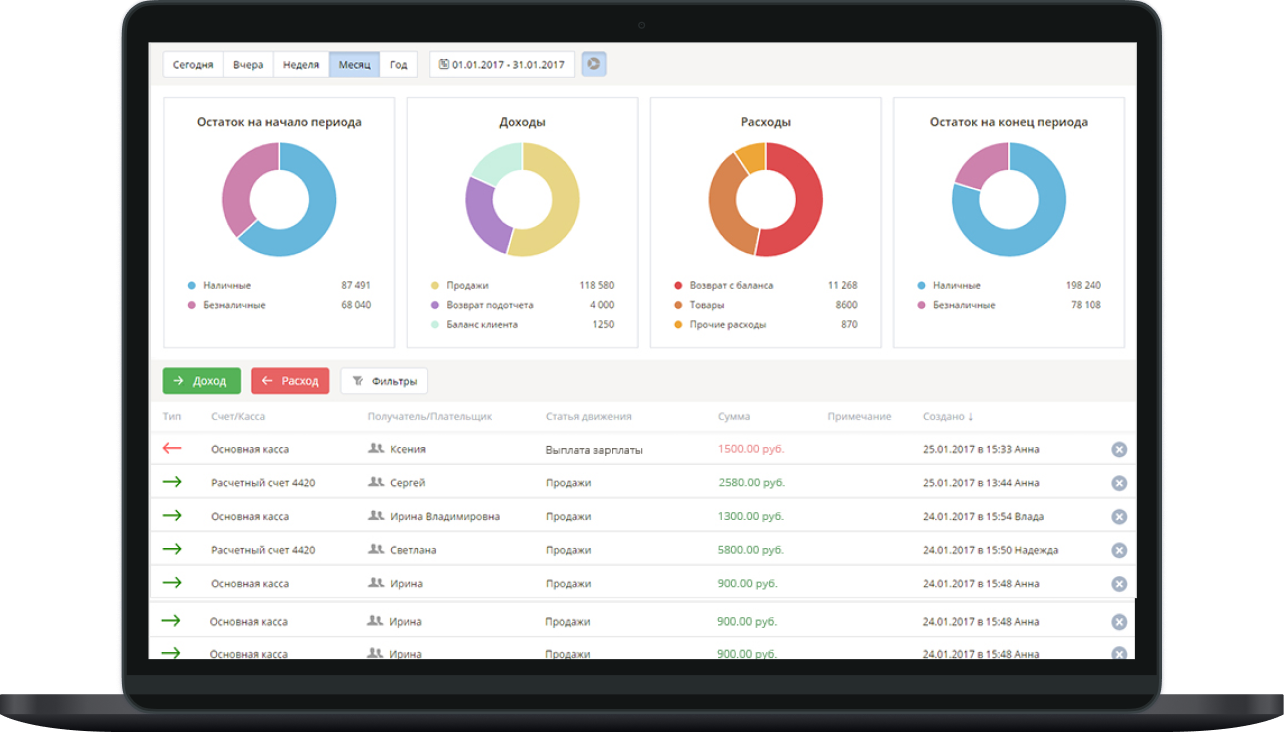 4) Salary

Automate salary calculation - set up an individual salary scheme for each employee. They may receive different wages for providing different services.

The following salary schemes are available:
Percentage of own sales (same for all sales or different for each service)
Percentage of company sales (both overall and per employee shift only)
Percentage of appointments made (if a sale is made)
Fixed payment (rate per working hours or working day)
Guaranteed payment (in case of small sales)
Take into account customer discounts and the cost of materials, reward customers for repeat visits.

All payroll accruals are automatically considered in Expenses.
THE STANDARD PLAN 
This plan includes features of the Basic and Minimal plan (Retention, Sales, Finance, Salary) + Loyalty programs + Gift cards.

1) Loyalty programs
With loyalty programs you can:
Flexibly set up cashback (by check amount, by total amount, by % of accrual and deduction in % of the payment amount);
One-time accrue reward points to a customer or a group of customers;
Set up birthday rewards program for customers.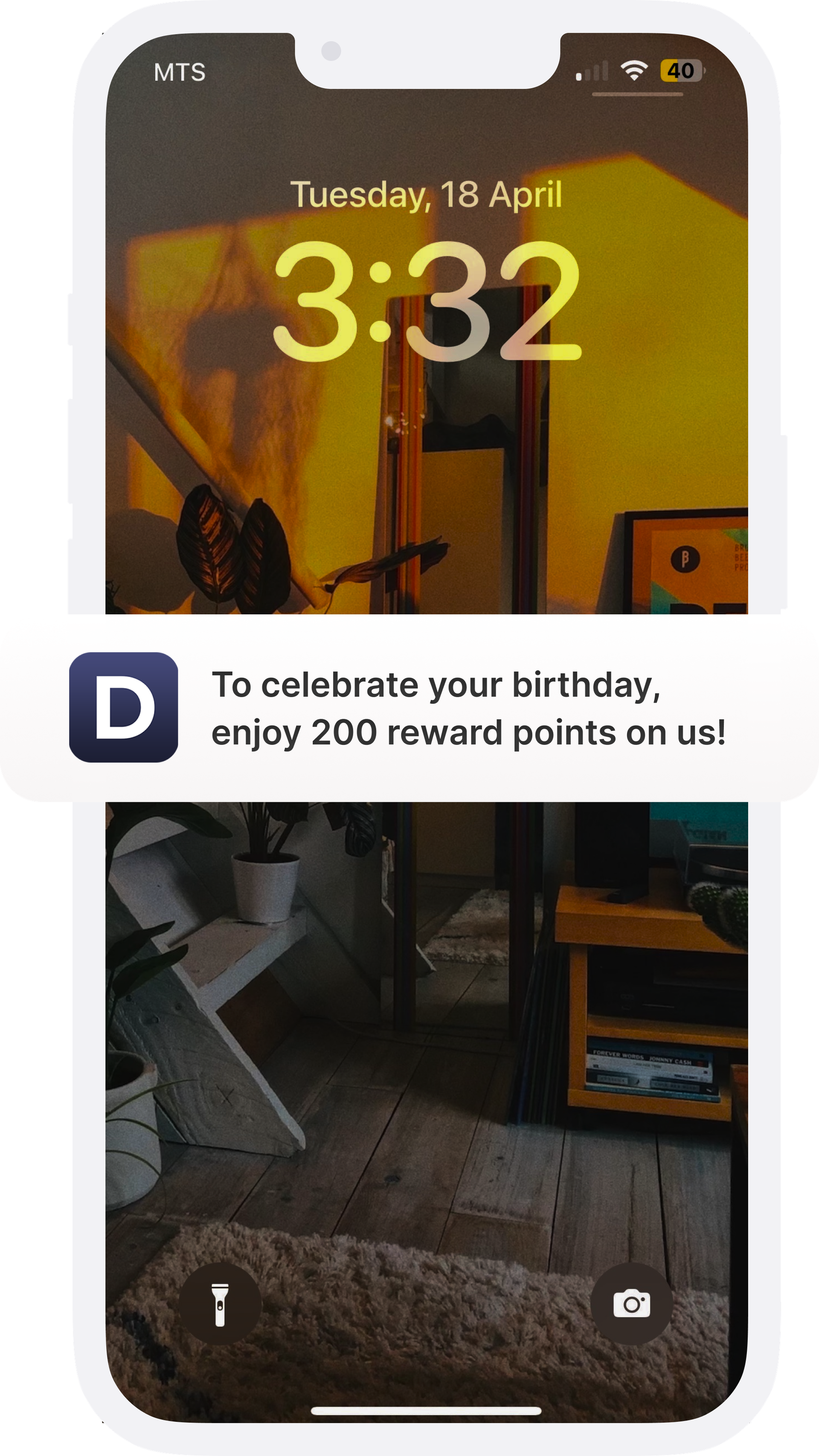 2) Gift cards

Create and sell gift cards: make custom design, set parameters (amount, expiration date). Record gift card sales whether you sold them online or offline.
THE FULL PLAN
All of the above features are available in the Full plan, plus it has the Goods module.
Goods is a feature for accounting of goods and consumables:
Track the availability of goods and materials;
Consider the cost of materials when providing services;
Write off the materials used in the process of providing services;
Control the balance in warehouses;
Take inventory.
Where to enable a plan and check prices:
In the DIKIDI Business app in the Pricing section or on the website dikidi.net/business in the Plans section. 


 Any module (Retention, Sales, Finance, Salary, Loyalty programs, Gift cards, Goods) can be enabled separately.
If you have any questions, please message the Support service, we will answer at any time!