Online Booking Integration with Google Analytics
Last modified:
---
How to connect DIKIDI integration with Google Analytics?
1. Copy the
created product ID number
(counter) Google Analytics (if the ID has not been created yet, follow the instructions, the default URL is:
https://dikidi.net
). The ID can be found next to the created resource.
2. Enter the Google ID number in the Online booking form, in the "
Metrics
" section.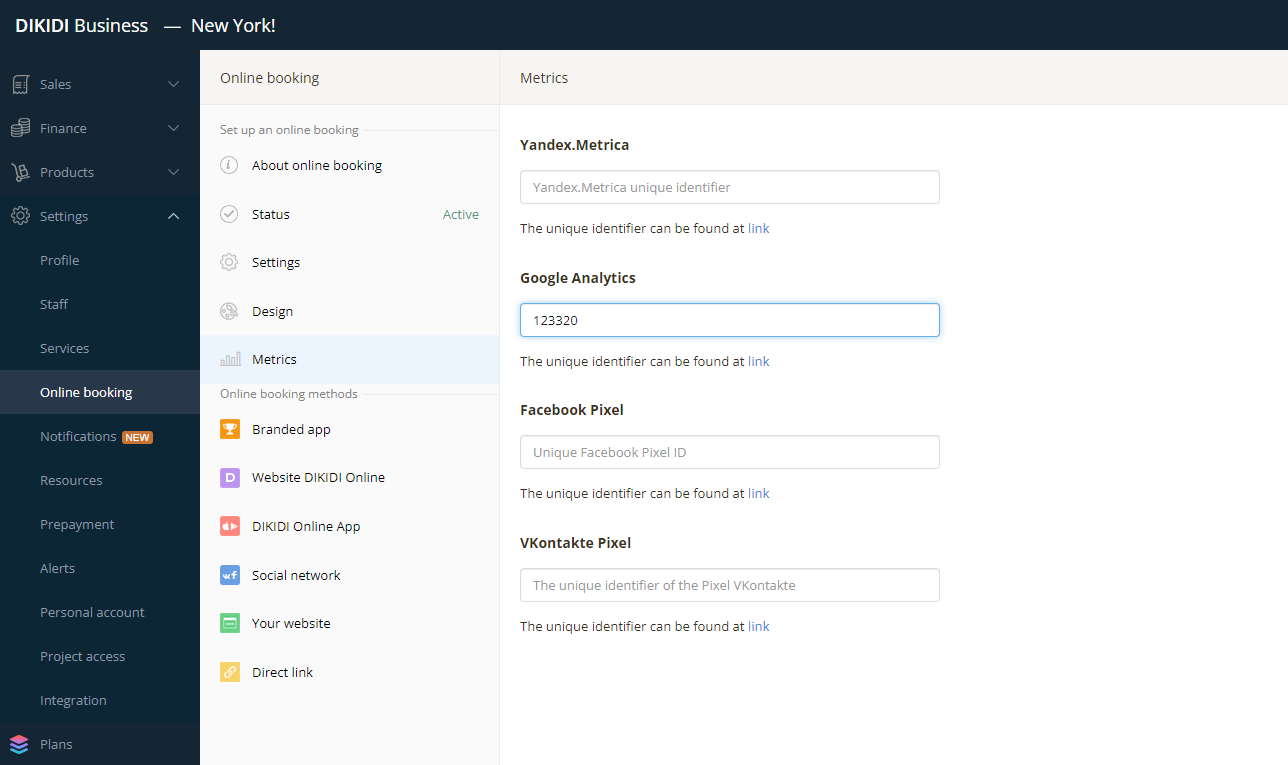 3. In the Google Analytics service create, achieve goals and fix it.
3.1. Go to the
Google Analytics
service.
3.2. Go to the desired account.
3.3. Go to the "
Administrator
" section.
3.4. Open the "
Goals
" tab.
3.5. Click on the "
Goals
" button.
3.6. Choose Your Own.
3.7. Specify the type "
Event
".
3.8. In the event conditions, in the "
Action
", copy the goal from the list of events that can be used when creating goals.


Metric goals:
book_button 
specialist_selected 
day_selected
time_selected 
book_completed 
direct_link_loaded 
widget_loaded
widget_closed
city_selected
company_selected
appointments_button 
profile_button
auth_loaded
user_signin
user_logout 
reviews_loaded 
review_created 
social_button 
android_app_button ios_app_button 
services_loaded
services_selected 
specialist_loaded 
deal_selected 
service_info 
specialist_info 
contact_loaded 
contact_saved 
phone_check_sms 
phone_checked 
repeat_booking
cancel_booking
reshedule_booking 
3.9. Click the "
Save
" button.


The target is connected to Google Analytics!
In order to test the integration, perform a target action in the form on a website or in social networks. Then check to see if there is a conversation for that goal.
You can check it in the Google Analytics section: "
Reports
" - "
Conversion version
" - "
Goals
" - "
Overview
".
The statistics delay in the metric is
about 5 minutes.