How Does the Loyalty Program Feature Work?
Last modified:
---
Many now practice rewards to attract and retain customers - gratitude in the form of points encourages them to come back to you again to get a discount.
Adding a loyalty program
In this section, you can add a program and configure your reward points' accrual/redemption conditions, and set it for any period. The program can be both single-level and multi-level, where reward points will be accrued based on the achievements of customers.
You can add a program from your computer or mobile phone in the Loyalty Program section.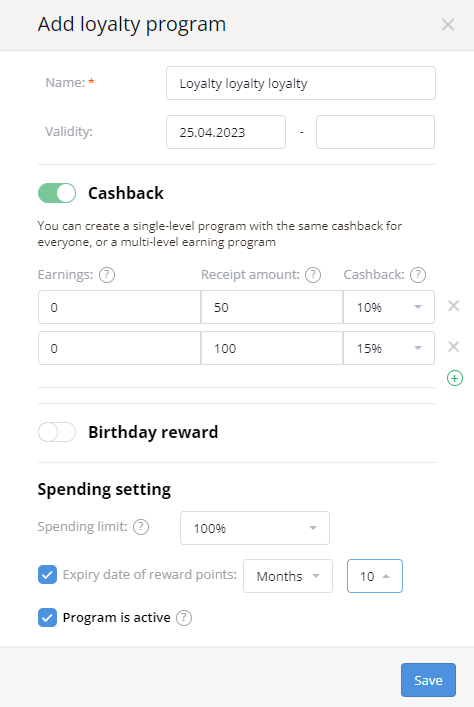 Accrual of reward points
Reward points are awarded when a sale is made and payment is received in the Appointment Journal, provided that all the conditions that you specified when setting up the loyalty program have been met. Reward points are awarded to all customers who meet the program's criteria. The number of reward points can be viewed in the Customer Card in the Statistics section.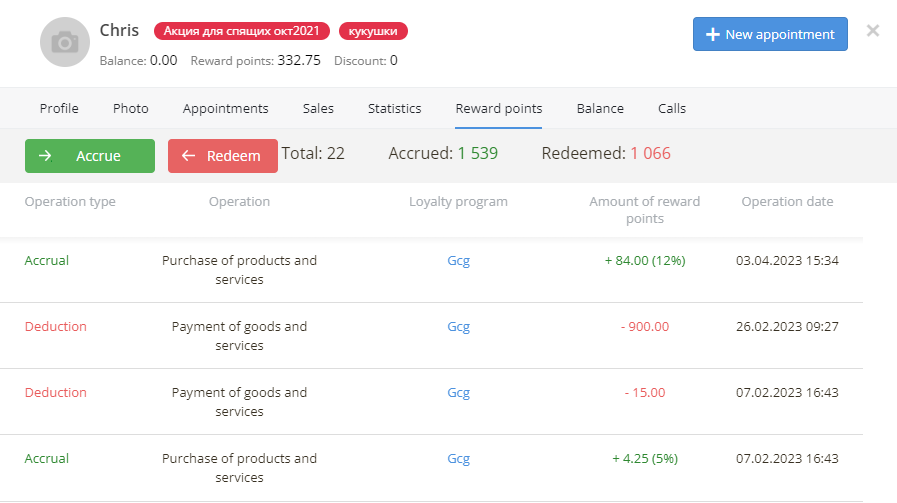 It is also possible to manually award or deduct points for customers in the Loyalty Program section under Customers - Operations.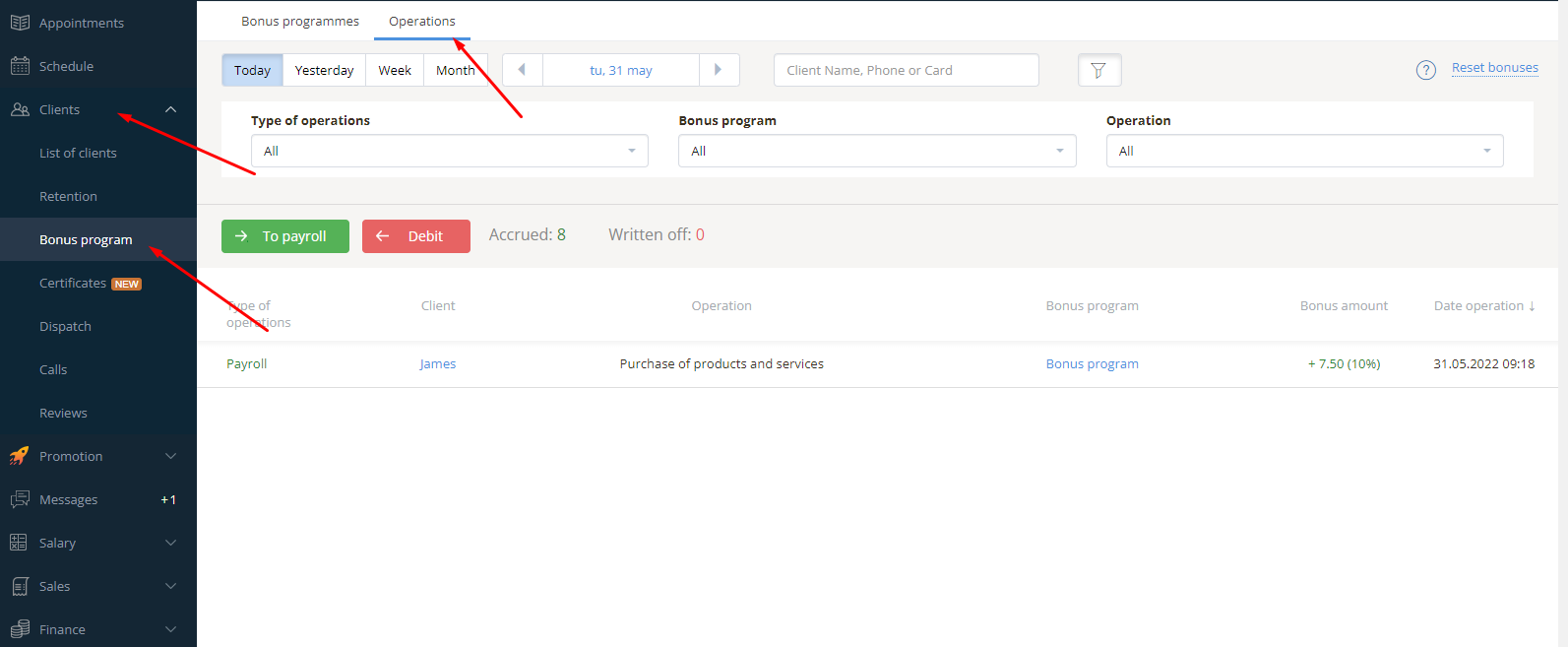 Payment with reward points
Using reward points to pay for a visit is possible when purchasing and paying for goods and services. You can
choose how many points to deduct from the customer's account
, after confirming it with them. The maximum percentage of payment that can be made using bonus points is limited based on your bonus point redemption settings. The remaining amount can be paid as usual - with a card or in cash.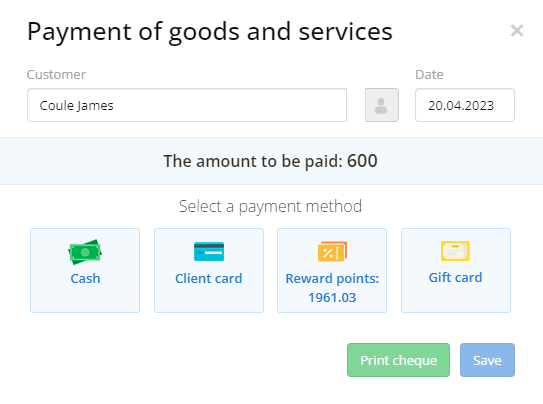 Setting up several loyalty programs 
You can add multiple loyalty programs to the section at once, as well as pause and resume their activity as needed. You can add both long-term programs (permanent reward points) and short-term programs (International Women's Day, Black Friday, New Year). If you have multiple active programs and a customer meets their conditions, then when making a sale, they will receive points for the highest cashback percentage among them.

Setting up a multi-level a loyalty program
In one program, it is possible to set up
multiple levels of reward point accrual
. Adding multiple levels is suitable for
thanking loyal customers
and motivating
them to come back to you. The more money a customer has spent over time, the more points they receive for each visit. Add levels via the plus sign and specify the necessary data.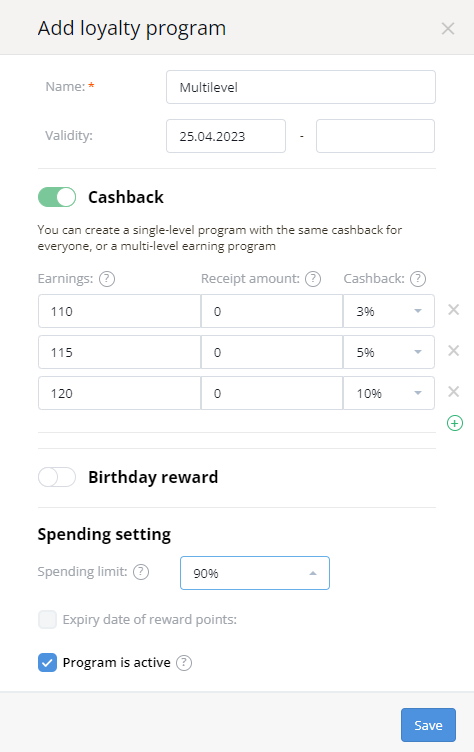 Examples of loyalty program settings
Before you add a program, ask yourself: What is the goal of reward points?
Attract new customers — when setting up a program, set "Accumulations" and "Receipt amount" to 0. Then any customer will earn bonuses from any purchase, which can be spent on future visits.
Retain regular customers – specify the required amount so that reward points are only earned by those who have spent at least that amount with you over time, i.e., loyal customers.
Increase average receipt  — when setting up the program, set "Accumulations" to 0 and enter the required amount in "Receipt amount." When a customer spends that amount in one transaction, they will earn reward points.
In honor of the holiday — set "Accumulations" and "Receipt amount" to 0 and also set a higher cashback percentage so that customers earn more bonuses for future visits.


How to create a Loyalty program

The Loyalty program functionality is available in the DIKIDI Business platfrom in the Standard and Full paid plans, you can also connect this module separately.