Invitation for a second visit
Last modified:
---
Invitation for a second visit is the automated sending of a message to the client in the chat of the DIKIDI Online application, the branded mobile application with a reminder that the procedure needs to be repeated.
For example. The client came to you in Manicure with gel polish coating. The frequency of such a manicure is approximately 3-4 weeks. So that the client does not forget to make an Appointment again, the system will send him an invitation to this service according to its frequency. For example, after 3 weeks (you set up this period yourself)
Interesting! The system takes into account the presence of a repeat appointment for this service and will not invite the client if he is already booked for a future visit.
If the client had several services with different periodicity when visiting, then the invitation will only come for the service with a lower periodicity. That is, the system tries to attract the client to the recording as soon as possible.
Setting up the

Invitation for a second visit

You can enable the invitation for a second visit in the web version of the service on the website dikidi.net/business in the Settings section - Booking settings.

When you turn on the corresponding toggle switch, the settings will open. By default, they are configured for all services with a periodicity of 1 month and also takes into account sending at 11:00 AM in your city's time zone and not sending to blacklisted clients.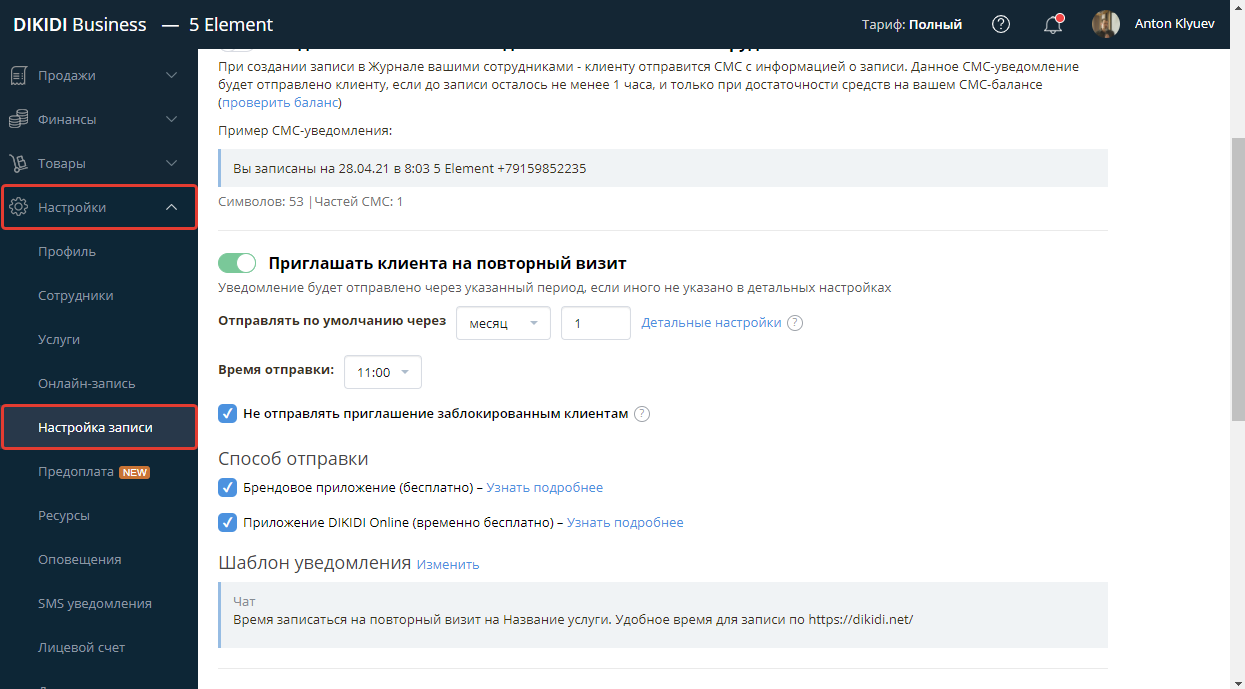 Detailed settings of periodicity of services
You can change the values for all services on this screen, or specify a different periodicity for individual services by clicking the button Detailed settings. In the window that opens, click on the line - "default" to specify your periodicity value for this service.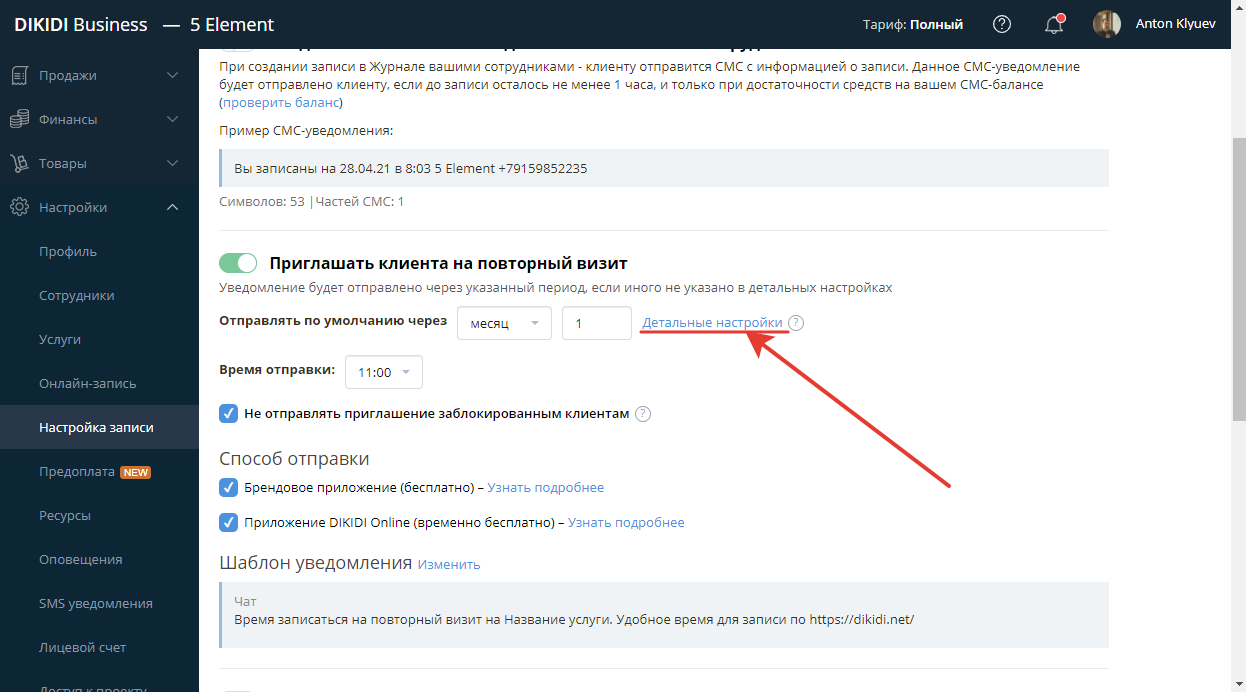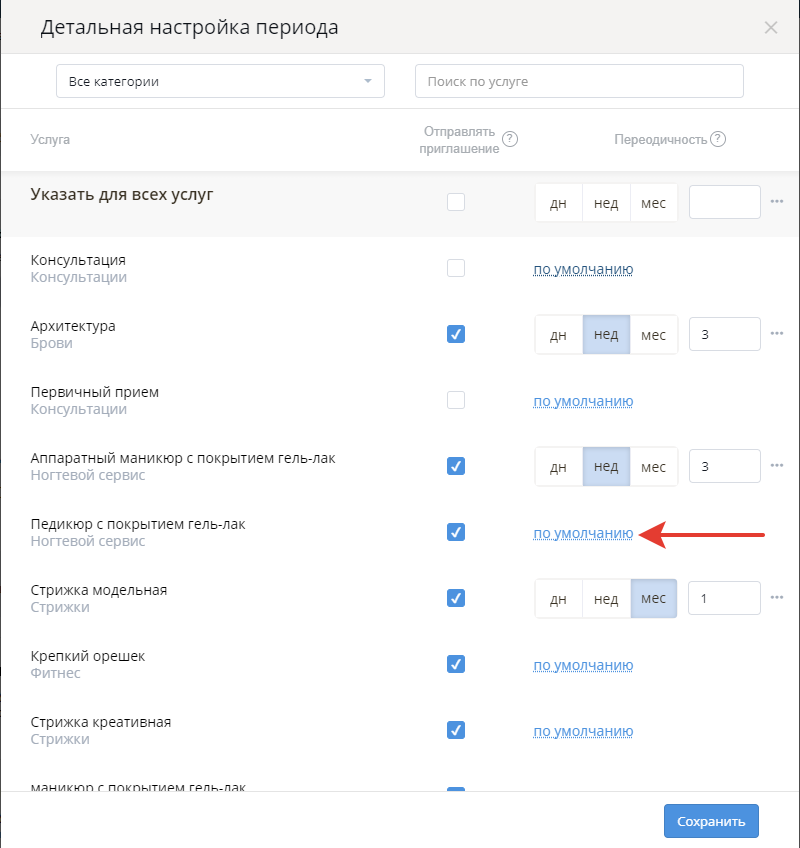 Great! Now the system will do everything for you.
Set up a template of the Invitation for a second visit.
Обратите внимание, что для данного уведомления вы можете изменять шаблон сообщения. Нажмите на Изменить шаблон, чтобы установить свой текст приглашения. Используйте переменные, представленные в настройках шаблона, чтобы подставлять, например, название услуги, ссылку на вашу компанию и тд.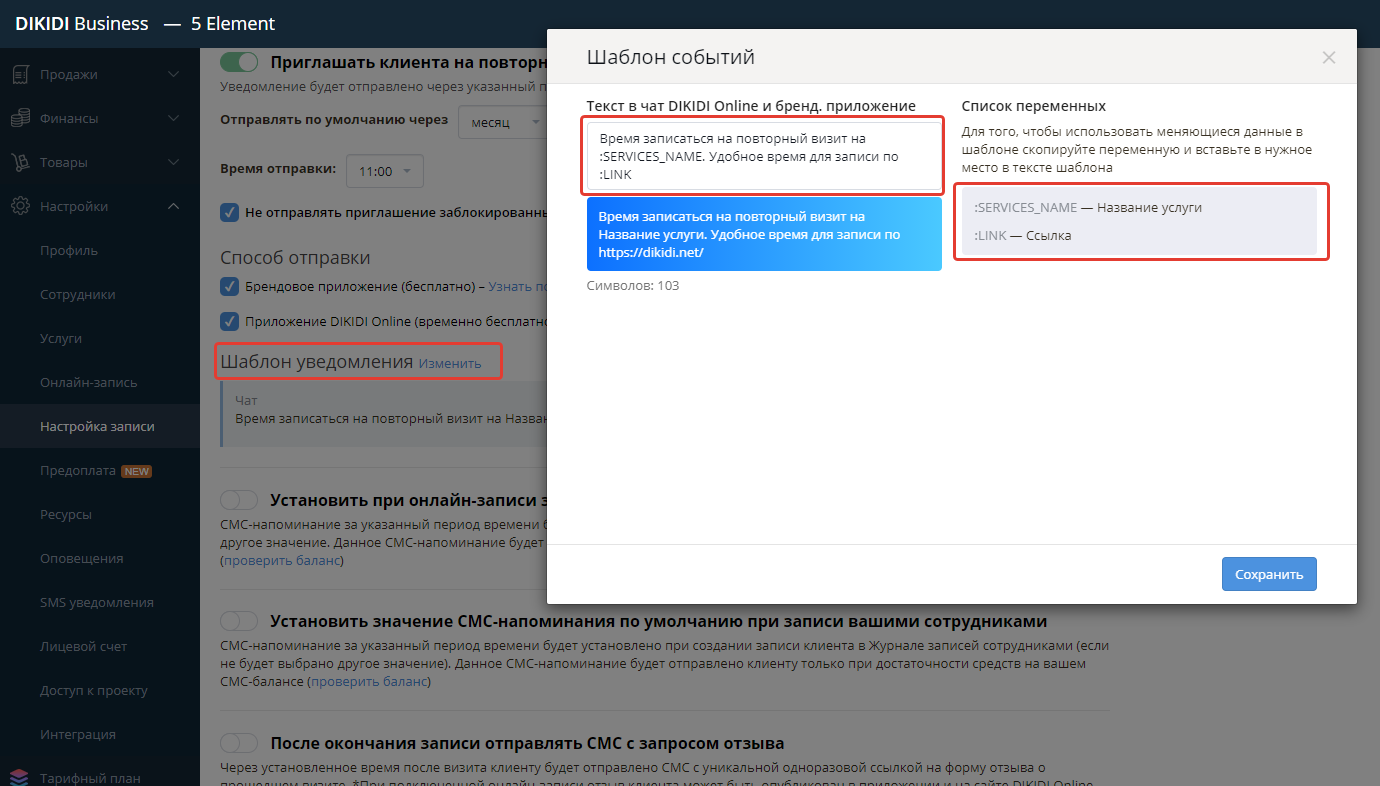 Sending methods
Invitation to second visit sent for free in the chat to clients who use DIDIKI Online app. And also, if you have a branded mobile app-the invitation will also sent there. The message in the chat is accompanied by a PUSH notification, which will not leave the invitation unnoticed.